At 2AM Pacific Time today, TWICE released their new album, along with the music video for the title track, Feel Special
Some context is required to understand this song. Mina Myoui, one of the nine members in TWICE, is currently taking time off for personal reasons, which has been speculated to be coping with stress and anxiety. With her temporary exit, that left a hole in the group, performing as a group of 8, rather than 9. This album was (at first) Mina's album, wishing her a speedy recovery and taking her place back in TWICE.
However, rather than just having another hit track song, all 9 members wanted the entire album to be a sincere, authentic story of themselves to their fans, and the lyrics in each song of the album was adapted from their own words: their sorrows, their gratitude, their experience overall.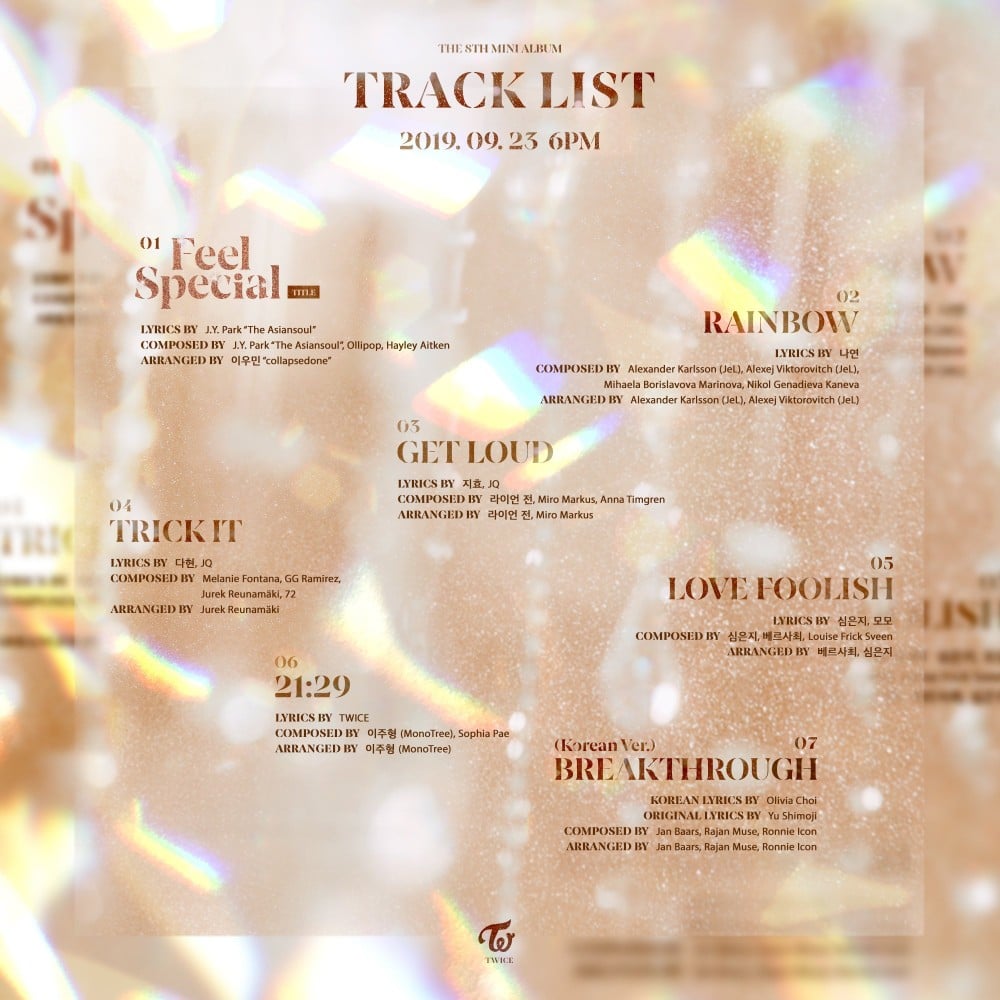 Feel Special is a different song though. It is a message for the girls to themselves, that they are a group of 9, despite being idolized individually. They talk about being special and talented, but being surrounded by specialness and talented, where it doesn't feel like they are anymore. They are diamonds surrounded by diamonds, quite literally.
every solo scene is introduced with a close up shot when it's expanded

they blend into their surroundings, portraying a fading existance

and Nayeon is literally wearing a dimond covered dress, in a diamond encapsulated room, alone.
If we look closely at the video, we see that members are uniqely and individually introduced. Nayeon (as seen above) is wearing everything diamond, in a diamond room, and Tzuyu (also above) is dressed like a princess with a medieval theme. They both look extraordinary, but they seems to fade into their respective background. They become surrounded by everything extravagant that they no longer feel extravagant
Sana, alone in the rain

is looked out for by Dahyun, coming to find her with an umbrella.
However, when they come into contact with someone, they seem to light up, illustrating their relationship is what makes them unique, especially as a group of nine, because they love, look after, and take care of one another. And that is the message they want to deliver. Although individuals make up TWICE, they could care less about that because the 9 of them together are TWICE. They're grateful for their individual fame and successes, but it's ultimately each other that they truly cherish, or at least that is what I believe is the message behind Feel Special is, both title track and album.